posted by

nikomaria
at 11:19am on 26/04/2006

The Chernobyl nightmare revisited
The world's worst nuclear accident, at Chernobyl in April 1986, was all the more alarming for taking place under a veil of secrecy, behind the Iron Curtain.
One of four reactors at the Chernobyl nuclear power plant, 70 miles (110km) north of Kiev, exploded at 0123 local time on Saturday 26 April.
The radioactive fallout was detected in Sweden the following Monday morning, but all day the Soviet authorities refused to admit anything out of the ordinary had occurred.
Only at 9pm, after Swedish diplomats gave notice they were about to file an official alert with the International Atomic Energy Authority, did Moscow finally issue a terse, five-sentence statement:
"An accident has occurred at Chernobyl nuclear power station. One of the atomic reactors has been damaged. Measures are being taken to eliminate the consequences of the accident. Aid is being given to the victims. A government commission has been set up."
The word "damaged" hardly reflected the truth of a reactor in meltdown, open to the sky, its graphite sections burning at 2,500C, sending a column of radionuclides thousands of feet into the atmosphere.
Few believed the reassuring Soviet reports which followed, and the fear that gripped many in the path of the fallout plume, was partly the fear of the unknown.

More indepth features about the disaster on April 26 1986 can be found here and here in German.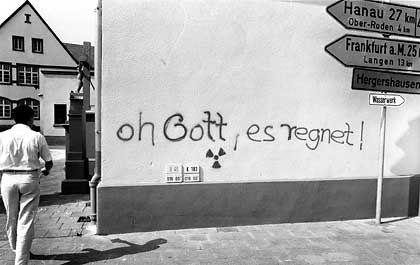 That picture sums up pretty much everything what I remember from those days "Oh my God it's raining" - FEAR. I was 11 living in Vienna back then - The streets emptied when it rained, in school we weren't allowed to play outside, for a very long time my parents only bought milk powder from the United States, hell we din't eat anythink that came from the local agriculture.
Let's hope something like that never happens again!

There are no comments on this entry. (
Reply
.)